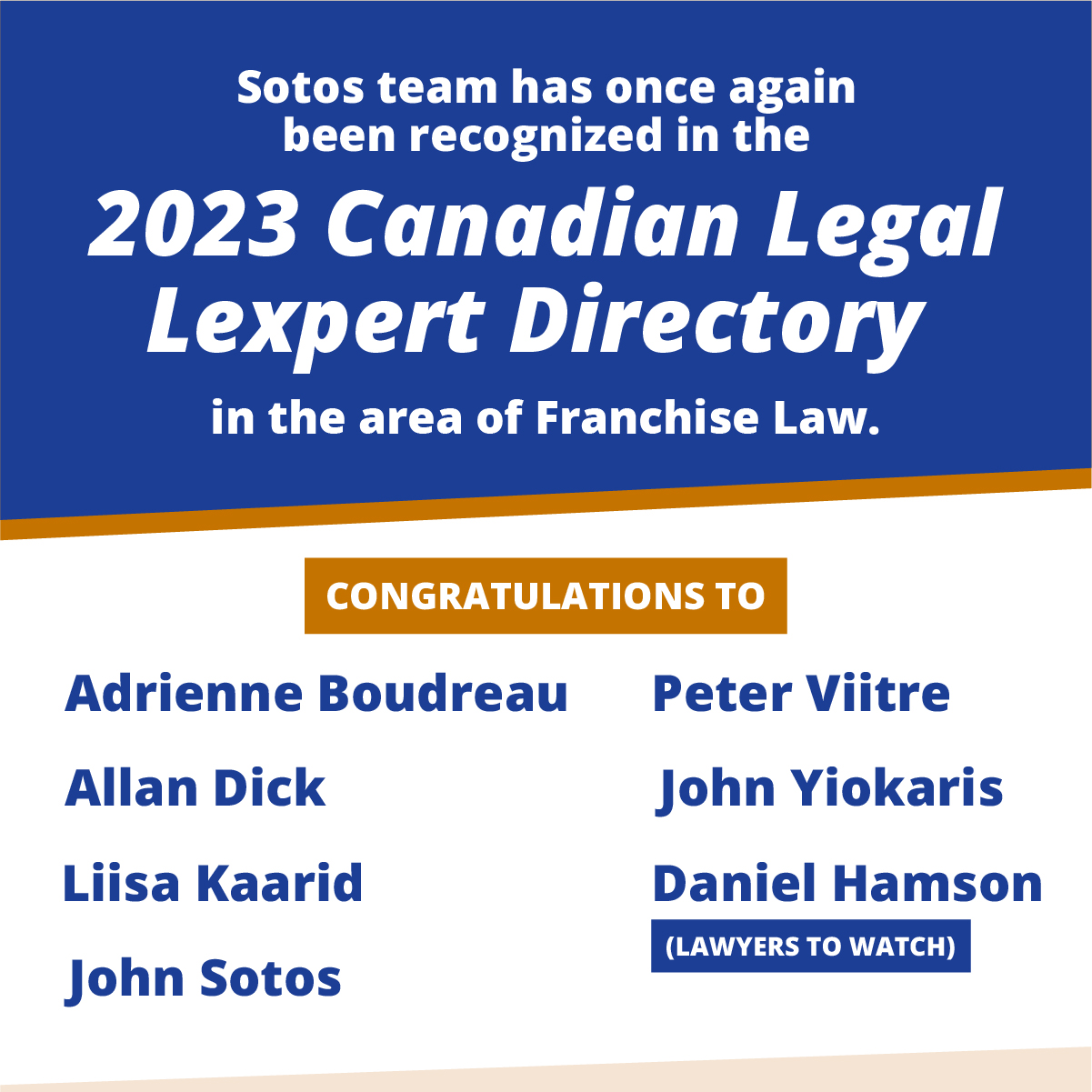 March 6, 2023
Sotos LLP Recognized as "Most Frequently Recommended" Boutique Law Firm in 2023 LEXPERT Directory
We are thrilled to announce that Sotos LLP has once again been recognized as the "Most Frequently Recommended" firm under Toronto Leading Firms – Boutique Firms in the field of franchise law in the recently released 2023 Canadian Legal LEXPERT Directory. This prestigious directory, which has been published since 1997, identifies the top lawyers and law firms across Canada based on an extensive peer survey process.
We would like to extend our congratulations to our team of exceptional lawyers who have been recognized for their hard work and dedication in the field of Franchise Law.
At Sotos LLP, we are committed to providing exceptional legal services and are honoured to have been recognized by LEXPERT. We look forward to continuing to serve our clients and the Franchise Law community with the highest level of excellence.
About Sotos LLP:
As Canada's leading franchising, licensing and distribution law firm, with over 20 legal professionals dedicated to the industry, Sotos LLP provides a comprehensive range of franchise law, corporate, private equity financing, commercial, litigation, intellectual property, employment and real estate services to franchisors.
About Canadian Legal LEXPERT Directory:
The Canadian Legal LEXPERT Directory, published since 1997, is based on an extensive peer survey process. It includes profiles of leading practitioners across Canada in more than 60 practice areas and leading law firms in more than 40 practice areas.