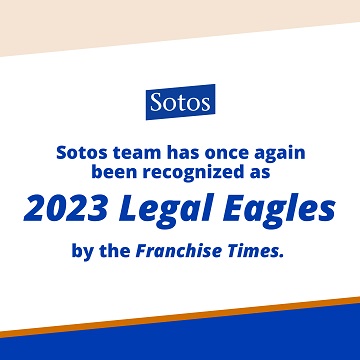 April 12, 2023
Sotos LLP dominates Franchise Times' Legal Eagles list for 2023
We are excited to announce that Sotos LLP has once again secured its position as Canada's leading franchise law firm. Since 2013, our firm has consistently had more lawyers listed as Legal Eagles by Franchise Times than any other law firm in the country. This distinction reflects our commitment to providing exceptional legal services to our clients and our unwavering dedication to the franchising industry.
We proudly announce that the following lawyers have been recognized as Legal Eagles by Franchise Times for 2023 once again:
We are also very proud to announce the addition of Lauren Parker to the list.
About Franchise Times:
Franchise Times' annual list recognizes top franchise lawyers from across Canada and the United States. Legal Eagles are nominated by their clients and peers and selected based on the number and quality of nominations received.
About Sotos LLP:
As Canada's leading franchising, licensing, and distribution law firm, with over 20 legal professionals dedicated to the industry, Sotos LLP provides a comprehensive range of franchise law, corporate, private equity financing, commercial, litigation, intellectual property, employment, and real estate services to franchisors.